Timp de citire
3
minute
So I am trying out Montessori toys for my daughter. At least it's my plan, in reality most of the time they are suuuuper expensive (topic for a separate post) and I am just not the DIY kind of mom. So I went out looking for something that could pass for a permanence box without having to pay 70 euros for it on Amazon.
I didn't find one. BUT I did go into a toy shop and as I was browsing through their selection I found the "girls toys" section. How do I know it was a girls' section?
It was full of pink stuff. What is it with this pink?! Why do toy makers believe girls are colorblind or can only see one color properly? Anywho, the color was the least of the problems with this section. It consisted mainly of household appliances such as vacuum cleaners, kitchen units, cash registers. On the box there were ONLY girls doing things like vacuuming with a pink vacuum cleaner and underneath was written "LOTS OF FUN". I don't know who wrote this, but I can assure this person it is so NOT lots of fun to be vacuuming the house. I find this so immensely condescending. What do they imagine a woman/girl is thinking? "Oh, I have some free time, I will splurge today and vacuum the house?" Oh hell no! Who says that? Only an imaginary stereotypical unreal woman that they want to portray for my daughter.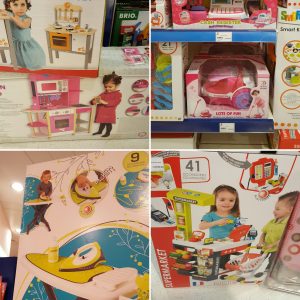 There was actually a box that showed a boy. It was the one for a shopping cart. So the man is the one with they wallet who does the shopping? This is no better for men either. The pressure to be an earner is plaguing their toys the same way the pressure to cook and clean is plaguing toys for girls. On one box, there was a supermarket situation where the girl was handling the cash register and the boy was shopping. Thanks, society!
Gender is a social construct in my opinion. There is no biological reason why girls would like pink things and play with vacuums. This is what we teach them about their gender. The same with men, there is no reason why they should play with cars and trains. We believe they are somehow more entitled to it than girls. I have seen boys want to push around toy baby strollers just because they are at the developmental stage where they like to push things. Whether it's a stroller or a car or another kid it's their and our decision. Not some sort of biological norm. But the problem then is that our decisions about what they learn shapes who they become and what our society then turns into. It doesn't feel like it when you go to a shop and buy a toy vacuum because your daughter wants to imitate you (also a developmental stage in the formation of identity) but, make no mistake, it's a lesson you are teaching your kid: "This is what we do as women". I do it, then you do it, then society sees us doing it and thinks that's all we are good for. Which is wrong on so many levels. When my daughter asks me for a toy oven ( I like to cook) I hope I remember to tell her it's a passion and not a duty and that she doesn't have to do something just because she sees me doing it.Also I hope I ask myself if cooking or cleaning or any other part of my life are choices I make or things I feel I am obligated to do and change my lifestyle accordingly.
I wonder, are women generally paid less because it's how it is or because we ask less thinking we don't deserve more? It's our job to raise kids with high self-esteem. And to be people with high self-esteem. And I think that may mean girls need to play with more superheros ( also, but not only, FEMALE SUPERHEROS, although they aren't as many *ahem ahem*).